Pearl DiversTM was licensed to AquaLeisure.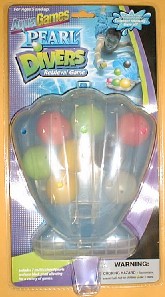 Click image to see enlargement.
This was sold in Target and in 2004, and then in Wal-Mart and Tuesday Morning in 2005.
HOW TO PLAY:
Let the clamshell fill with water and sink to the bottom of the swimming pool. Dive down and unlatch the lid -- it will open slightly. Pull out only one Pearl and bring it to the top. If you force the lid open too far, it will open all the way. All the pearls will float to the top, and this will identify you as the one who let them all out!